School and Group Services
School/Youth & Corporate Groups
For over 30 years Dwellingup Adventures has been assisting schools and groups to ensure their activity experiences in and around Dwellingup are memorable.
We have a range of Do-It-Yourself activities as well as hire only of canoes, rafts, bikes and camping equipment. Select from our list of activities or ask us to help you decide taking into account your needs. Whatever way you look at it, it's now a whole lot easier to get the very best from your stay at Dwellingup.
Get in touch with us to organise a camp for your school or corporate group call 9538 1127.
While most activities are located around the Dwellingup area, many are portable. If you are camping at another location we can still assist with many activities. Activity costs should be seen as a guide only. Please contact Dwellingup Adventures for a quote on all activity and hire equipment requirements.
We work closely with Dwellingup accommodation providers and can incorporate activities that are onsite or utilise other parts of the Lane Poole Reserve. Your group may choose to use one of the many campsites within the Reserve and tent camp. In this case we can design a programme for you that allows you to move around the Reserve using various transport modes, including canoes, mountain bikes and walking and perhaps tent camp at different locations each night. Our exceptional, local area experience built over a long period of time allows us to provide expertise to your planning, taking into account age, experience, numbers and your budget.
Our quotes provide comprehensive and detailed information on the activity, location, what to wear, expectations and all safety procedures.
Please Note: Delivery fees apply for any canoe, raft or bikes. Delivery fees may apply to activities depending on the location. Quoted equipment hire cost applicable to schools/youth groups only.
All our activities and staff comply with Department of Education policies and procedures. We are fully licensed and insured and adhere to the Outdoors WA Code of Ethics.
Click here for our full activity menu and current activity costs. Click here for our list of hire equipment.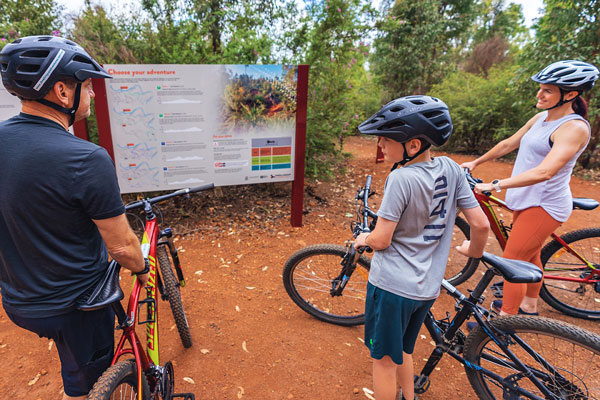 Posers & Predicaments
A series of problem solving activities and a chance to look at the teamwork model in depth. We demonstrate by practical application effective communication, strategies and planning and leadership models. Instructor costs only.
You Win I Win Games
A series of non-competitive cooperative activities where everybody wins. Focuses on teamwork and common goals. Instructor cost only.
Advanced Camp Craft
Innovative practical lessons on all of the camp craft skills required to live in safety and comfort in the bust. First aid, camp cooking, navigation, water procurement, equipment and minimal impact camping. Instructor cost only.
Evening Activity 'Wheel of Misfortune'
A team game show based on the TV game format. A light-hearted look at pickles, plights and predicaments all with an outdoor flavour. Activity complete with game compare and wheel. Caters for numbers from 10 to 100. $170 per session, about 1.5 hours.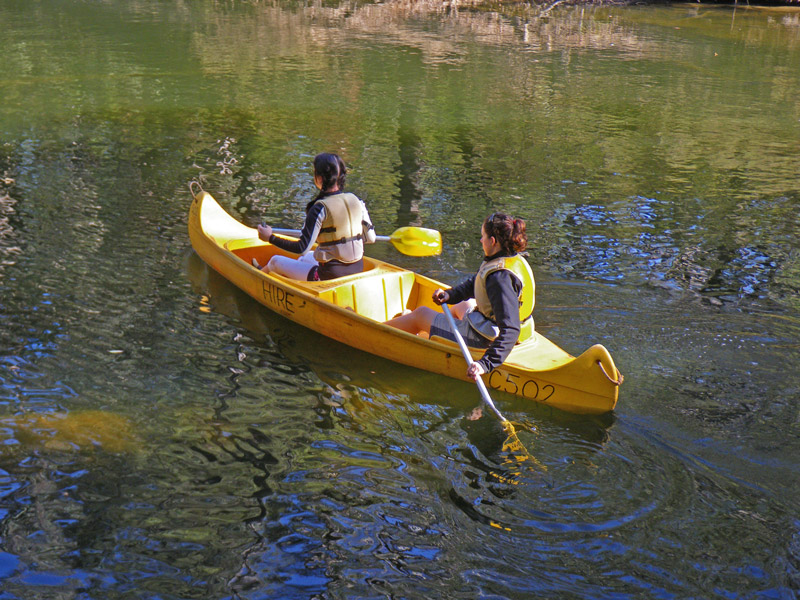 Canoeing
The Murray River provides many kilometres of navigable water for short experiences or extended canoe trips. Students are introduced to basic water safety, personal safety equipment and the basics of paddling a Canadian canoe. Experienced river guides/instructors available if required. Canoe hire per day: $30 per 2 person, $35 per 3 person (school, youth group rate only) plus instruction /guide costs if required. Water sports helmets $2 each if required, delivery costs may apply. Canoe hire only option available. Canoes complete with paddles and PFDs.
Mountain Biking for Beginners
Instructors introduce the multi geared mountain bike with bike fit, soft gear changing and controlled braking instruction and practical lesson. A suitable section of the Munda Biddi Trail or a local mountain bikes trail are selected before participants under the instruction of the guide explore the local area. The group is coached on downhill and uphill riding techniques as well as appropriate eye and body position and movement.  Bike hire $25 per bike if using a Dwellingup Adventures instructor. Bike hire $25 per half day and $27 per day if hiring bikes only (school/youth group only). Helmets and water bottle cages supplied with each bike. Activity setup fee applies depending on location. Trailer hire and delivery costs may apply.
Bush Craft 'Kullari the Gecko'
On an imaginary hunt, students see the bush as a friend rather than something to be feared or conquered. Featuring the many and varied traditional uses of the local flora and fauna and information on the hunter gatherer lifestyle of the first inhabitants. Instructor cost only.
Evening Activity 'Night Encounters'
The changing mood of the forest as night descends. Increased dependence on non-visual senses. Featuring a journey through the heavens using the stars as guides (weather permitting). $170 per walk, about 1.5 hours.
Evening Activity 'Tall Tales and Ghostly Charades'
Who is behind the ghostly mask? Each student gets to hide their identity while others guess who they are. Spine tingling tales are told to finish the evening. $170 per walk, about 1.5 hours.
Discover Dwellingup by Bike
A self-guided tour of local points of interest. Visit the Dwellingup History and Visitor Information Centre, Hothan Valley Railway, Forest Heritage Centre, POW Camp or maybe ride the Marrinup Forest Tour and picnic along the way. Bikes collected from and returned to our town office. Helmets and water bottle cages supplied with each bike. Bike hire $25 per bike if using a Dwellingup Adventures instructor. Bike hire $25 per half day and $27 per day if hiring bikes only (school/youth group only).
Raft Rescue
Students are supplied with barrels, poles, tubes, ropes and paddles. They must construct a raft and 'rescue' a stranded mariner. 12 buoyancy vests are supplied. Extra PFDs are available at $4 each if required.
Compass Wheel
Students commence at the wheels hub, a bearing takes them to a lettered post. Another bearing takes them to another until each bearing has a letter. The wheel is about 100 metres across and 6 courses are available. An activity set up cost of $45.00 is applicable. Set up fee may vary on location.
Rogaining
Students locate each station using a map and compass and punch the score card. A short course  suitable for about 2 hours and a longer 3 hour course are available. Variations include scoring points for various stations located and setting time limits. Activity includes facilitator instructions, compasses, and maps. The stations are set by Dwellingup Adventures each with a flag and a punch. An activity set up cost of $45.00 is applicable. Two way radios available for hire. Set up fee may vary on location.
DIY (Do It Yourself) Activities
Dwellingup Adventures introduce a number of activities with a DIY option. You can still use a Dwellingup Adventures staff member, however you have the option of running the activity yourself. Each activity includes all material, activity explanation, delivery (costs may apply) and collection from site and any associated safety equipment. DIY activities are $120 per day or $90 per half day. No additional material hire charges if Dwellingup Adventures run activity.
Orienteering/Quest 'Guide Me Home'
Participants follow the trail using a map and compass. The task is to locate all the lost animals and stamp them on your landscape in their preferred home environment. Maps, compasses, stamps, clues and landscape all provided. Suitable for lower school. An activity set up cost of $45.00 is applicable. Set up fee may vary on location.
Lost on Mount Nanga
Students read they have crash landed on Mt Nanga but fortunately find an old jelly bean miners camp. They need to construct a shelter. Poles, ropes, star pickets, hammer and covers provided.
Evening Activity 'Giant Games'
A series of rotating activities where each team completes a number of simple skill activities with a giant   theme. Points are awarded as each team moves around the game circuit. The activity set includes   facilitator notes and four giant games.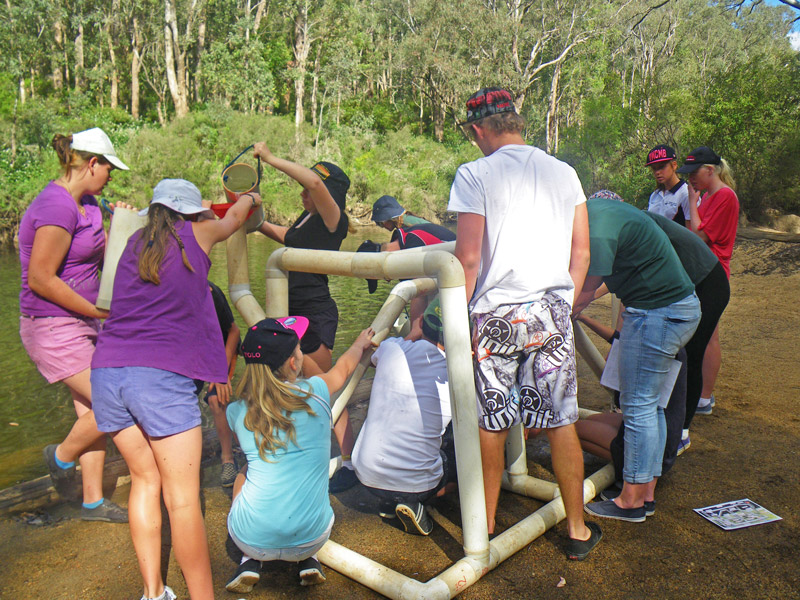 Pipeometer
Students must assemble the pipe structure and then fill it with water and release the ping pong ball noting that some of the pipes have holes that need to be covered. The activity set includes facilitator notes, pipeometer plans, pipes, buckets and measuring tapes.
Get in touch with us to organise activities for your school or corporate group, call 9538 1127.